Thank you,
friend

!

How Not To Teach American History is on its way to your e-mail inbox.

While you wait for it to arrive, we'd like to ask you one more thing…

We're publicizing this free resource because we believe that if America doesn't properly teach history, we will repeat the same mistakes over and over again. We're able to give this to you free of charge because of generous donors who support Hoover's mission.

The Hoover Institution is 100% donor-funded, which enables us to give away free resources like this in the hopes that we can reach and teach Americans from all walks of life – but especially the next generation – the benefits of liberty, free market economics, and national security.

Would you partner with us in this urgent mission?

The Hoover Institution will wisely invest every dollar of your generous gift to promote and encourage ideas that encourage a free society. By helping to underwrite the work of the Hoover Institution, you'll put your stamp on American and world history for generations to come.

Moreover, your support will allow Hoover's team of innovative, respected scholars to continue to study history and then apply their knowledge to solving modern day societal challenges.

Please make your most generous, tax-deductible gift to the Hoover Institution now.

Regardless of the exact amount of your gift, we'd be honored to have your friendship and support as we advance the principles of limited government, personal and economic liberty, Constitutional government, and the American way of life.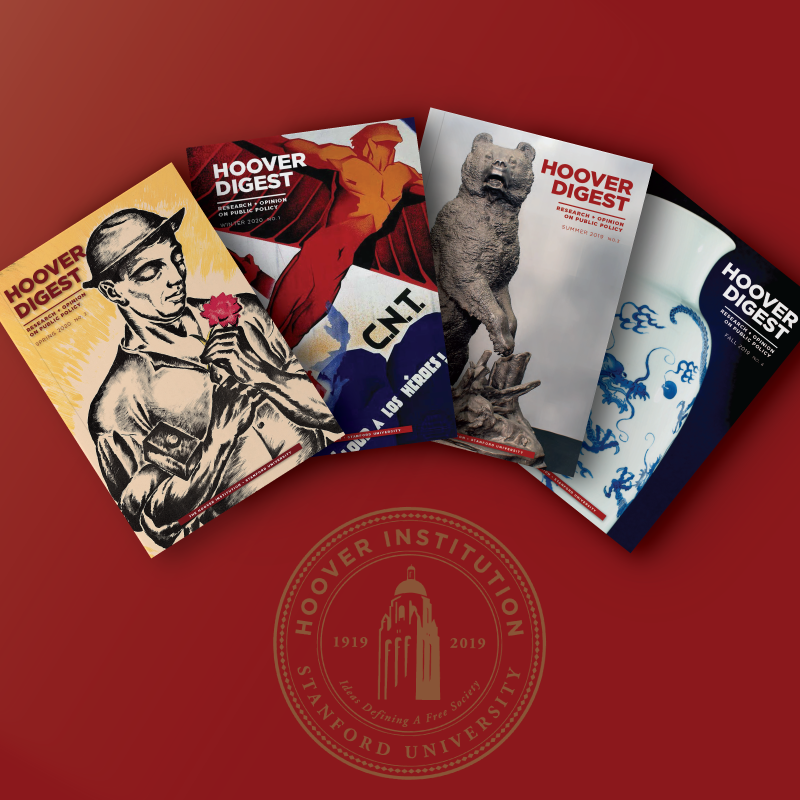 Also, if you make a donation of $100 or more we will give you a one-year subscription—four physical copies—of the quarterly Hoover Digest. Each issue features about thirty articles from Hoover Institution scholars on a variety of topics including Democracy, Economics, National Security, and more.